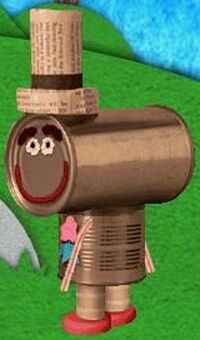 Al Luminum is the mayor of Recycle Town. He appears in "What Does Blue Want to Make Out of Recycled Things".
Looks
Al is silver with white eyes. His head and body are metal cans. His pupils are black and he has a red mouth. He also has a hat made out of newspaper. He wears a medal made out of paper on his chest. He has two paper towel rolls for legs, two straws for arms and two bottle caps for feet.
Appearances
Al has only appeared in one episode, "What Does Blue Want to Make Out of Recycled Things". Despite this, he appeared in 3 PC games. They were "Blue's Treasure Hunt", "Blue's Art Time Activities", and "Preschool".
Trivia
Al is voiced by Cody Ross Pitts, which makes him sound like Slippery.
There are times where Al Luminum calls Steve some different "S" names like "Stu", "Stone" and "Stan".
Ad blocker interference detected!
Wikia is a free-to-use site that makes money from advertising. We have a modified experience for viewers using ad blockers

Wikia is not accessible if you've made further modifications. Remove the custom ad blocker rule(s) and the page will load as expected.