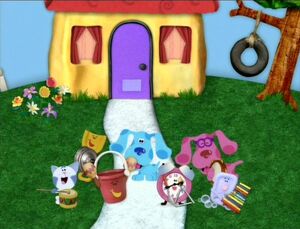 It's Another Blue's Clues Day
is a song featured before every episode of Blue's Clues from seasons 5 and 6.
Characters Singing
Lyrics
Joe: Come on in!
Blue: Bow, bow, bow!
Joe: What did you say?
Viewer: A clue, a clue!
Joe: You see a clue?
Viewer: We see a clue!
Joe: Another Blue's Clues day, hooray! Do you want to play...
All: Blue's Clues?
Joe: So, count to three!
Pail, Periwinkle & Shovel: One, two, three!
Joe: And clap your hands!
Tickety, Slippery & Magenta: Clap your hands!
Joe: Learn something new!
All: Something new! Join our Blue's Clues band today!
Mailbox: Right this way!
All: It's another Blue's Clues day!
Mr Salt: (name of episode)
All: It's another Blue's Clues day!
Blue: Bow, bow!
Trivia
The "Bow Bow Bow" bit at the start of Season 6's version of the song isn't used because Blue is a puppet. She barks at the end, though.
In Season 5, the song takes place in a live-action classroom with various elements from episodes from the current and previous seasons

In addition to the Blue's Clues book, the other books on the central bookshelf are, clockwise starting from the Blue's Clues book:
Out of these books, Swimmy was the only one that wasn't featured at the very beginning of the original Blue's Clues opening sequence.
Ad blocker interference detected!
Wikia is a free-to-use site that makes money from advertising. We have a modified experience for viewers using ad blockers

Wikia is not accessible if you've made further modifications. Remove the custom ad blocker rule(s) and the page will load as expected.