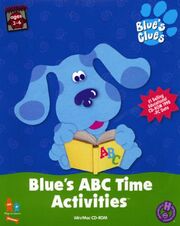 Blue's ABC Time Activities is a PC Game released in 1998.
Synopsis
Explore the world of letters, sounds, and words with Blue and her friends in this activity pack filled with multilevel learning games. Identify letters, build vocabulary, practice phonics, and create rhymes as you collect words to help Blue build silly stories in her Word Book. The more words you collect, the more stories you can create and print out.
Blue and her friends help strengthen early learning skills, including initial letter recognition, upper and lowercase letter discrimination, alphabet recognition and sequencing, phonics, visual and auditory discrimination, consonant blends, word formation, early vocabulary, and rhyming.
List of Activities
Felt Friend's Word Puzzles
Mailtime
Safari Snapshots
Snacktime
Blue's Word Book
Trivia
Tickety Tock was voiced by Stephanie Searson in this game instead of Kathryn Avery.
Ad blocker interference detected!
Wikia is a free-to-use site that makes money from advertising. We have a modified experience for viewers using ad blockers

Wikia is not accessible if you've made further modifications. Remove the custom ad blocker rule(s) and the page will load as expected.