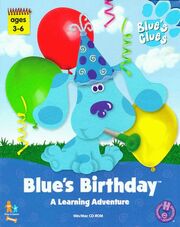 Blue's Birthday Adventure is a PC game released on September 1, 1998 by Humongous Entertainment alongside Blue's ABC Time Activities.
Disc 1 (Red Disc)
Disc 2 (Yellow Disc)
List of Activities
Pizza Making
Where's

Turquoise

Find My Friend

Tickety's Puzzles

Party Toys

Hide and Seek

Mixed-up Music

Treasure Hunt

Flower Picking

Puppet Show
Coloring Book
Blue's Birthday Card
Four Episode Let's Play by FlameCKL
Trivia
This is the very first PC game to ever be released.
This is the last time to use Blue's barking voice in the theme song from Snack Time.