Blue's Jobs

Release date

5/2/2006

Type

VHS tape and DVD

Episodes Featured

Previous Video

Next Video
Blue's Jobs is a Blue's Clues VHS tape and DVD featuring episodes from its third and fifth seasons. The DVD featured two bonus episodes from its 2nd and 5th seasons.
Episodes Featured
Contents
The Backyardigans DVD Trailer
Go Diego Go! DVD Teaser Trailer
Blue's Room Videocasette and DVD Trailer
Dora The Explorer Videocassette and DVD Trailer
Paramount Feature Presentation
Paramount Home Entertainment
Nick Jr. Frog Bumper
Occupations
Blue Goes To The Doctor
Blue's Clues Credits
Nick Jr. Logo 2003
Paramount Home Entertainment Logo
Facts
These DVD and VHS tape were released on May 2, 2006 by Nickelodeon and Paramount Pictures.
This was the last VHS tape with Steve.
Number
Printdate
Gallery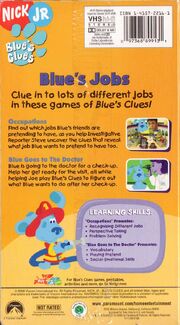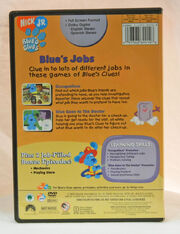 Ad blocker interference detected!
Wikia is a free-to-use site that makes money from advertising. We have a modified experience for viewers using ad blockers

Wikia is not accessible if you've made further modifications. Remove the custom ad blocker rule(s) and the page will load as expected.