Classic Clues

Release Date

1/27/2004

Type

VHS tape and DVD

Episodes Featured

Previous Video

Next Video
Classic Clues is a Blue's Clues VHS tape featuring all the classic Blue's Clues episodes aired in the past decade, the video tape shows two episodes, and those from Season 4. The DVD features the bonus two episodes from Season 4.
Episodes Featured
Contents
Rugrats Go Wild VHS & DVD Trailer
Dora the Explorer: Dora's Pirate Adventure VHS & DVD Trailer
Nick Jr. Celebrates... VHS & DVD Trailer (Oswald Version)
Oswald VHS & DVD Trailer
The Adventures of Jimmy Neutron: Boy Genius VHS & DVD Trailer (DVD)
Charlotte's Web 1 & 2: Wilbur's Great Adventure VHS & DVD Trailer
Paramount Feature Presentation/FBI Warning
Paramount Home Video (2002)
Nick Jr. Kids Opening Bumper (Blue's Clues, Little Bill and Dora the Explorer Variant)
Blue's Clues Credits (Blue's School & Something To Do Blue)
Nick Jr. Bears Logo
Nickelodeon Haypile Logo
Paramount Home Video (2002)
Facts
This DVD and VHS were released on January 27, 2004 by Nickelodeon and Paramount Pictures.
This was the last VHS to have Steve appear in both episodes.
This was the second Blues Clues VHS and DVD to have school. The first one was Blue Takes You to School.
In VHS and DVD it has Steve episodes in it instead of Joe episodes, Although Joe episodes aren't in this VHS and DVD.
This is the last VHS to have the Nick Jr. Kids Opening Bumper, and the closing bumper was removed by the Nick Jr. Bears logo and the Nickelodeon Haypile logo.
This is the first DVD to feature the Nick Jr. ID Bumper - Frogs (2003).
Number
Printdate
Gallery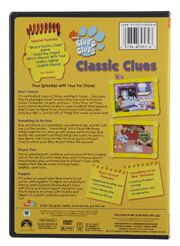 Ad blocker interference detected!
Wikia is a free-to-use site that makes money from advertising. We have a modified experience for viewers using ad blockers

Wikia is not accessible if you've made further modifications. Remove the custom ad blocker rule(s) and the page will load as expected.