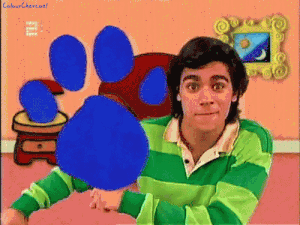 Duarte is the host of Pistas da Blue, the European Portuguese version of Blue's Clues. Like Kevin from the UK version, Duarte is the main character and appears in every episode, doing the roles of both Steve and Joe, skipping the Steve Goes To College episode trilogy (Joe's First Day, Joe Gets A Clue, and Steve Goes To College), and just changing shirts all the time.
Duarte is portrayed by Duarte Gomes, a well known actor from Portugal, that has done many other works in the acting business. Not much is known about how he got the job for the show, or how they were able to recreate it.
At the current time, a limited amount of episodes featuring Duarte are available to watch at Dailymotion.com, uploaded by Childrensvideos in 2009, that is if you live outside of Portugal, in which case, it's available to watch on RTP2.
Gallery
See also
Steve, counterpart in Blue's Clues USA
Joe, counterpart in Blue's Clues USA
Kevin, counterpart in Blue's Clues UK
Trivia
Unlike Steve, Duarte, along with Kevin, does not wear a belt.