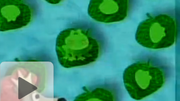 Frog
Appearances
Several different frogs have appeared in several episodes of Blue's Clues.
The 1st one (pictured here) only appeared in "What Time Is it for Blue?".
The 2nd frog and several others like it appeared in "Pretend Time".
The 3rd frog (Tadpole's mom) appeared in "The Trying Game".
The 4th frog appeared in "What Does Blue Want to Do on a Rainy Day?", "What's That Sound?", and "Blue's Big Pajama Party" (under the tree where the owl was perched on, but only its silhouette was shown due to the dark). A computer version of it appeared in "What Did Blue See?" and was the answer to the 2nd close-up picture during the credits.
The 5th frog appeared in "Words". A lighter green version of it with more detailed feet appeared in "Adventure".
The 6th frog appeared in "The Fairy Tale Ball".
Trivia