Home
Talk

15
1,768pages on
this wiki

Featured Article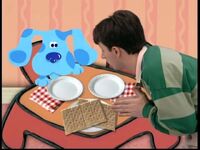 Snack Time is the first episode of Blue's Clues from season one, though it aired after the series' pilot episode.
Characters Present: Blue, Steve, Mailbox, Mr. Salt, Mrs. Pepper, Tickety, Slippery, Shovel, Pail and Sidetable.
Summary: It's our first day visiting the Blue's Clues house and right away we're welcomed in to join in a snack. Although snacking is the theme of the episode, there's much more to learn about than that. We help out Blue with a painting, show her the colors she needs. We identify foods by shape and later we find about Skidoo and visit a farm, where we help some baby chicks in hats to find their friends.
Here at Blue's Clues Wiki, we aim to provide our visitors with information on all the different aspects of the popular children's television series, Blue's Clues, which originally ran from September 1996 - May 2004, 2005 - present on Nick Jr. in the US and lasted for 144 episodes. This wiki covers characters, locations, objects and everything else to do with Blue's Clues. This site is about Blue's Clues which means that any visitor is free to edit as long as it has to do with Blue's Clues.
Blue will give you free healthy snacks if you help out!
Latest activity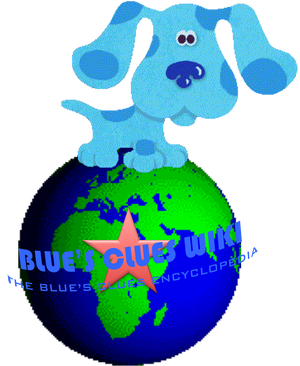 1,768 articles made since 2010. We're a collaborative community website about Blue's Clues that anyone, including you, can edit. Click the edit button at the top of any page to get started!

Blue's News
A section called "Recap" is being added to articles in the category "Episodes". Feel free to help by adding a full recap of an episode to an episode page without a recap!
About Blue's Clues
Blue's Clues is a popular American Nick Jr. television series about a blue-spotted puppy named Blue, and her many companions. Every day when Blue wants to give an answer to a question her owner Steve asks, she leaves clues on the items featured in the answer to let Steve know. Watch Blue's Clues every day on Nick Jr. and Nickelodeon!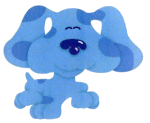 Not sure where to start?
Find out more about the wiki on the About page.
If you are new to wikis, check out the tutorial.
Contact any of the wiki's administrators, listed below, if you have questions or need help.
© ®
2010-2012