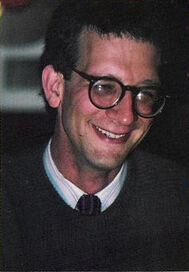 Mark Saltzman
began his career in New York City as a script writer and songwriter for
Sesame Street
, where he earned seven Emmy awards
Early career
Saltzman created the Muppet character of Placido Flamingo for Sesame Street and wrote more than 50 songs, including "Caribbean Amphibian" and "I've Got a New Way to Walk." At that time, Saltzman was also writing cabaret shows and musicals that played at The Ballroom, Sobo Rep, 13th Street Theater, and The Village Gate, where he co-wrote the long-running revue A, My Name is Alice.
Other TV work
For CBS, Saltzman wrote Ms. Santa Claus, a holiday musical movie starring Angela Landsbury, with songs written by Broadway legend Jerry Herman. His TV movie, The Red Sneakers, directed by and starring Gregory Hines, aired on Showtime in 2004 and was nominated for a Writers Guild Award. For cable tv's here! network Mark wrote the screenplay for Third Man Out based on the novel by Richard Stevenson. In 2007, Mark served as writer-producer of the Emmy-nominated Disney channel show "Johnny and the Sprites," starring John Tartaglia
Blue's Clues
Outside of Sesame Street, Mark Saltzman has been working with the Blue's Clues team since Season 1 writing episodes and wrote the lyrics for "Oranges Grow on Trees"
Episodes Mark Wrote
Mailbox's Birthday (with Norman Stiles and Angela C. Santomero)
What Does Blue Need? (with John Morning)
A Snowy Day (with Angela C. Santomero)
What Game Does Blue Want to Learn? (with Angela C. Santomero and Jennifer Brackenbury)
Draw Along With Blue (with Adam Peltzman)
Ad blocker interference detected!
Wikia is a free-to-use site that makes money from advertising. We have a modified experience for viewers using ad blockers

Wikia is not accessible if you've made further modifications. Remove the custom ad blocker rule(s) and the page will load as expected.