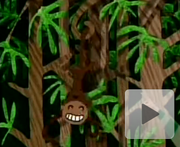 Monkey is a red monkey currently residing in a tall tree on the African savannah. He is voiced by Holter Graham.
Looks
He has two yellow ears are big, a yellow tummy, a yellow mouth, two black eyes are small, a long red tail and two yellow large hands.
Appearances
The primate has only appeared in four episodes of Blue's Clues which were "What Time is it for Blue?" (Season One), "Nurture" (Season One), "What Did Blue See?" (Season Two), and "Blue's Big Musical Movie".
Ad blocker interference detected!
Wikia is a free-to-use site that makes money from advertising. We have a modified experience for viewers using ad blockers

Wikia is not accessible if you've made further modifications. Remove the custom ad blocker rule(s) and the page will load as expected.