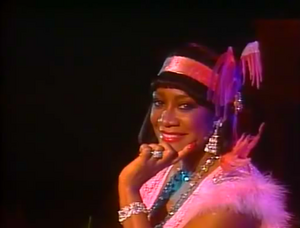 Patricia Louise Holte-Edwards (born May 24, 1944), better known under the stage name Pattio LaBelle, is a renowned Grammy Award-winning American singer, author, and actress who has spent over 50 years in the music industry. LaBelle spent 16 years as lead singer of Patti LaBelle and the Bluebelles, who changed their name to Labelle in the early 1970s and released the iconic disco song Lady Marmalade.
She guessed starred on the "Blue's Clues" episode "Blue's Big Car Trip" as the singer for The Backseat Boogie & was a guest star on Sesame Street singing songs like Oh How I Miss My X, & Gospel Alphabet.
Ad blocker interference detected!
Wikia is a free-to-use site that makes money from advertising. We have a modified experience for viewers using ad blockers

Wikia is not accessible if you've made further modifications. Remove the custom ad blocker rule(s) and the page will load as expected.