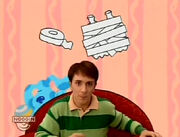 Taping all water filled bottles up was the wrong answer from "What Experiment Does Blue Want to Try?".
Reason
That idea won't work because that is way too much tape.
Ad blocker interference detected!
Wikia is a free-to-use site that makes money from advertising. We have a modified experience for viewers using ad blockers

Wikia is not accessible if you've made further modifications. Remove the custom ad blocker rule(s) and the page will load as expected.