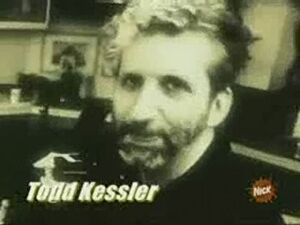 Todd Kessler was the primary creator of the show and its executive producer throughout the run.  He was one of the show's primary directors and directed the Blues Clues direct to video movie Blue's Big Musical Movie. He also was one of the producers for Gullah Gullah Island, and the story editor for Nickelodeon for Little Bear and the co-writer, director and co-producer of the highly acclaimed teenage love story KEITH, based on a story by Ron Carlson.
Episodes Kessler Directed
Season 1
Snack Time
Blue's Favorite Song
Blue Goes to the Beach (with Angela C. Santomero)
The Trying Game
Stories (also the writer)
Magenta Comes Over
Season 2
Blue's ABCs
Blue is Frustrated (also the writer)
Season 3
Ad blocker interference detected!
Wikia is a free-to-use site that makes money from advertising. We have a modified experience for viewers using ad blockers

Wikia is not accessible if you've made further modifications. Remove the custom ad blocker rule(s) and the page will load as expected.