Washer is a washing machine that first appeared in "What Does Blue Need?". She also made cameo appearances in "Magenta Comes Over" and was the answer to Blue's Clues in "Superfriends".
Looks
Washer is a white washing machine. On the middle of her panel are a pair of white eyes with black pupils that are located between 2 dials (the one on the left is a gray circle with a black line for the knob and the one on the right is a gray spiral). Her door (which also functions as her mouth) consists of a clear glass window with a black rim and hinge.
Trivia
She seems to be inanimate in "Superfriends", having 4 small

gray

buttons instead of her eyes.

In that episode, she was regarded as the washing machine.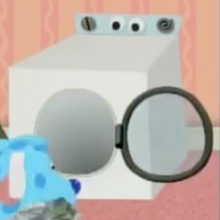 Ad blocker interference detected!
Wikia is a free-to-use site that makes money from advertising. We have a modified experience for viewers using ad blockers

Wikia is not accessible if you've made further modifications. Remove the custom ad blocker rule(s) and the page will load as expected.